Roll over image to zoom in
Click to open expanded view
Epson EB-982W Business Projector
29.000,00 EGP
| | |
| --- | --- |
| Contrast | 16000 |
| Lumens | 4200 |
| Throw Ratio | 1.38-2.24 |
| Resolution (Native) | WXGA 1280x800 |
| Light Source | Lamp |
| Light Source Life (Est.) | 17000 |
Projector Epson EB-982W
WXGA display 4,200 lumens White
A viewing experience that is more impressive, bigger and clearer can be achieved:
The EB-982W projector is a highly advanced and powerful tool that can significantly enhance the learning experience in any classroom. Its ultra-bright 4,200-lumen display provides vivid and widescreen visuals, making it perfect for collaborative lesson plans. With an integrated Moderator function using iProjection, up to 50 users can connect and share content from their laptops or mobile devices. The projector's lamp life of up to 17,000 hours in ECO Mode makes it highly durable and sustainable, while its 1.6 optical zoom, 16 W speaker, microphone input, and dual HDMI ports enable users to easily create dynamic and high-definition displays.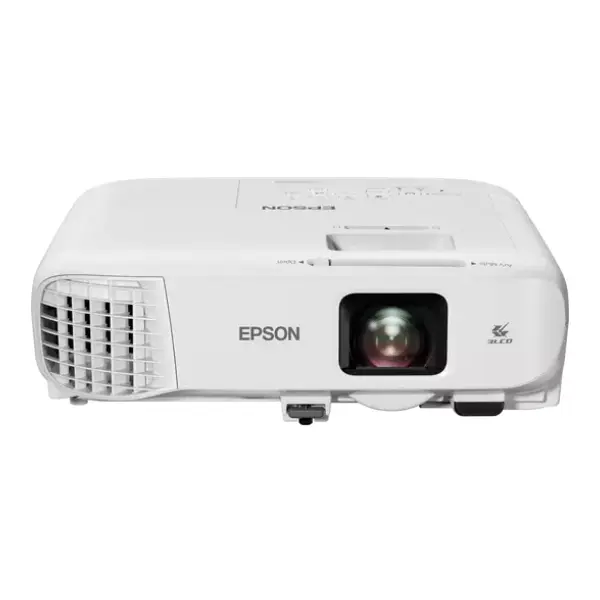 The EB-982W projector delivers exceptional and high-quality displays with its impressive 4,200-lumen brightness and 16,000:1 contrast ratio. Its 3LCD technology provides equally high White and Colour Light Output, ensuring outstanding image quality. With minimal maintenance required, the projector can be used uninterrupted for several years. It also offers flexible installation options, such as horizontal/vertical keystone correction and 1.6x optical zoom, and multiple connectivity options, including dual HDMI ports, RJ-45 Ethernet, and optional wireless connectivity. Collaborative features such as the iProjection App1, split-screen function, and moderator function make it easy for multiple users to share and display content simultaneously.
higher resolution quality:
The Epson EB-982W offers a WXGA resolution that is superior to the standard SVGA resolution, providing clearer text and sharper, more detailed images.
Great expectations
If you need a larger display for your information, projection is the ideal solution as it can effectively convey your message to everyone in the room with clarity and accuracy.
Split screen feature for wired and wireless devices
With the split screen function of the projector, you can simultaneously project two separate images from different devices on a single screen, using both wired and wireless connections. This eliminates the need for a second projector, making classroom lessons and business meetings more engaging. You can easily connect the projector to a document camera, PC, or tablet, enhancing the overall experience.
Different interfaces:
Epson business projectors offer a broad range of connectivity options such as HDMI, VGA, and USB, making them compatible with various digital devices and even older analogue products. The interfaces allow for easy connections without the need for adaptors, providing flexibility and convenience.

Projection System
3LCD, 3-chip technology
LCD Panel
0,59 inch with MLA (D9)
Colour Light Output
4,200 lm
White Light Output Brightness
4,200 lm
Lamp
UHE, 230 W, 6.500 h durability, 17.000 h durability (economy mode)
Keystone Correction
Auto vertical: ± 30 ° horizontal ± 30 °
Colour Processing
10 Bits
2D Vertical Refresh Rate
100 Hz – 120 Hz
Colour Reproduction
Upto 1.07 billion colours
Projection Ratio
1,38 – 2,24:1
Zoom
Manual, Factor: 1 – 1,6
Image Size
29 inches – 280 inches
Projection Distance Wide/Tele
0,9 m – 8,5 m / 1,4 m – 13,7 m
Projection Lens F Number
1,51 – 1,99
Focal Distance
18,2 mm – 29,2 mm
USB Display Function
2 in 1: Image/ Sound
Interfaces
USB 2.0-A, USB 2.0, RS-232C, Ethernet interface (100 Base-TX / 10 Base-T), Wireless LAN a/n (5GHz) (optional), VGA in (2x), VGA out, HDMI in (2x), Composite in, Jack plug out, Jack plug in (2x), Cinch audio out
Epson iProjection App
Ad-Hoc / Infrastructure
Security
Kensington lock, Control panel lock, Security cable hole, Wireless LAN unit lock, Password protection
2D Colour Modes
Dynamic, Cinema, Presentation, sRGB, Blackboard
Features
AV Mute Slide, Automatic keystone correction, Built-in speaker, Direct Power on/off, Document Camera Compatible, Easy OSD pre-setting, Horizontal and vertical keystone correction, Network projection, OSD copy function, PC Free, Quick Corner, Split-Screen-
Video Colour Modes
Blackboard, Cinema, Dynamic, Sports, sRGB
Energy Use
327 Watt, 225 Watt (economy), 0,3 Watt (standby), On mode power consumption as defined in JBMS-84 286 Watt
Supply Voltage
AC 100 V – 240 V, 50 Hz – 60 Hz
Noise Level
Normal: 37 dB (A) – Economy: 28 dB (A)
Dimensions
309‎ x 282 x 90 mm (Width x Depth x Height)