Description:
The ViewSonic M1+_G2 is an iF award-winning, ultra-portable LED projector that can deliver a convenient, enjoyable entertainment experience anywhere it goes. With a built-in battery, a LED light source with up to 30,000 hours of lifespan, all packaged into less than 1 kg, the M1+_G2 can deliver years of multimedia entertainment wherever it goes – from room to room, both inside and outdoors. Its smart stand enables simple 360-degree setup, while doubling as a lens cover. Once the lens is uncovered, the projector automatically powers on to full brightness for instant entertainment. Stereo Harman Kardon speakers provide room-filling sound for an amplified experience, while more flexible audio needs can be realized via Bluetooth. Integrated Wi-Fi connectivity makes streaming easier than ever – both wireless casting from smart devices and built-in content streaming are possible.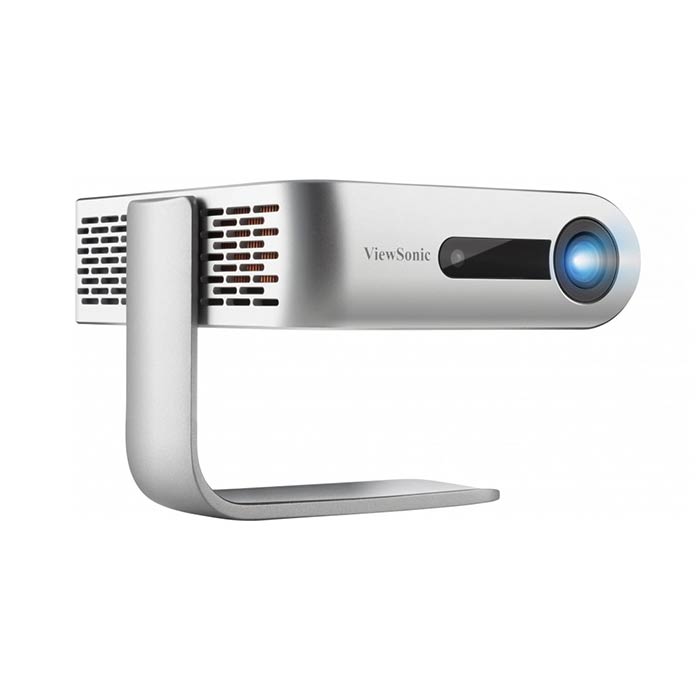 Metal Stand
Sturdy setup anywhere – no tripod needed.
Lens Cap
The stand also doubles as a lens cover to protect the lens from being damaged when being transported.
Power Combo
Swiveling the stand to uncover the lens powers the projector on in an instant.